The heavens declare the glory of God and the firmament showeth His handiwork. Psalm 19:2 Astronomy from The Netherlands Homepage of John S.Sussenbach

Last updated: 10 September 2010 (see New Images)
New images
---
On this site you will find demonstrations of two aspects of my interest in Astronomy:

* PROCYON, a Planetarium program for the palmtops PSION 5mx, PSION REVO and Psion 7.
* Astrophotographs produced by myself using different telescopes and techniques.

* Recently I was pleasantly surprised by the announcement that planetoid/asteroid 9703 was named SUSSENBACH. An original picture from one of the discoverers dr. I. van Houten-Groeneveld. Asteroid 9703 Sussenbach is shown below as a short dash between two big marker dots.
Ephemeris Asteroid 9703 Sussenbach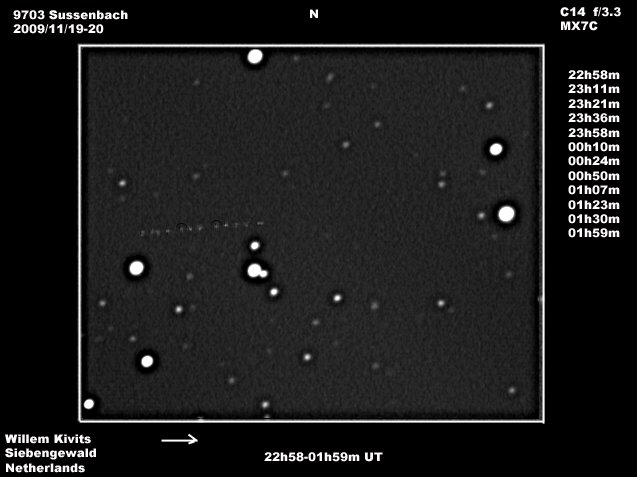 Picture of 9703 Sussenbach made bij Willem Kivits, Siebengewalt (NL).
---
PROCYON X for the Psion Series 5 and 5mx
PROCYON XL for the Psion 7 and NetBook
Extended color version!
---